Working with a Telescopic Handler for lifting (SSVV / SOG)


SSVV(which stands for Foundation Cooperation for Security) is an initiative of joint petrochemical companies in the Benelux. SSVV- or SOG-courses (SOG, formerly GORW) applies to companies that perform hazardous work in (petro-)chemical industry, off-shore industry and industrial cleaning. Our conducted courses, related to this industries, are mutually recognised by participating countries(in Belgium these are covered by RRB, Register Risky tasks Bessac). After completing this SSVV-course with sufficient results you will receive a certificate containing a VCA logo and a registration in the VCA diploma register.
This training consists of the following parts with telescopic handler:
1. Lifting Bar
2.
Man Basket
1. Overall Education Programme
'Health and Safety'-regulations

Stability

Setting up work site

How to choose proper tools/ equipment

Rigging

Working safely with a Telescopic Handler

Interpreting a hoisting plan

Environmental/ safety regulations

Mass/ balance determination

Assist in mount faucet fittings

Inspections and certificates

Communication (with operator/ others near work site)

Hand/ arm signals
2. Objectives

Participants will gain knowledge and the ability of operating the machine safely. They also learn to rigg responsibly according to the TCVT standards, while using correct tools. This course will let participants develop the ability of estimating risks. Finally they are taught how to communicate with employers or clients in a professional manor.
3. Maximum amount of participants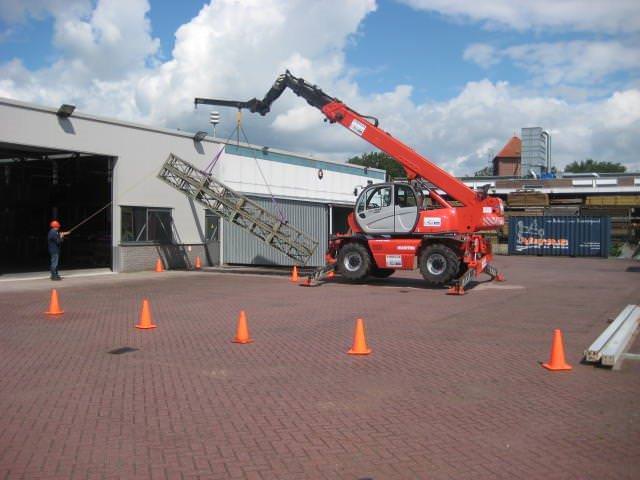 At the most we can provide this course to 4 participants per instructor per telehandler.


4. Resources
Telescopic Handler (minimum capacity of 10 T/M)

Jib

Man Basket

Carriage



5. Length of course
5 days of education

1 day of examination
**Customised training possible.
6. Languages

This course and the exam is available in the following languages:
Dutch

English

German

French.
​
​
SIGN UP