Engine Truck Mounted Crane, with hoisting function (TCVT W4-04 / CCV N61 / CCV U18-3)


1. Overall Education Programme

'Health and Safety'-regulation

s

Stability

Setting up work site

How to choose proper tools/ equipment

Rigging

Working safely with a Truck Mounted Crane

Interpreting a hoisting plan

Environmental/ safety regulations

Mass/ balance determination

Assist in mount faucet fittings

Inspections and certificates

Communication (with operator/ others near work site)

Hand/ arm signals
2. Objectives

Participants will gain knowledge and the ability of operating the machine safely. They also learn to rigg responsibly according to the TCVT standards, while using correct tools. This course will let participants develop the ability of estimating risks. Finally they are taught how to communicate with employers or clients in a professional manor.
3. Maximum amount of participants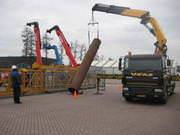 At the most we can provide this course to 4 participants per instructor per crane.


4. Resources
Truck Mounted Crane (minimum capacity of 10 T/M)

Hoisting equipment
5. Length of course
5 days of education

1 day of examination
**Customised training possible.
6. Languages

This course and the exam is available in the following languages:
Dutch

English

German

French


​7. CCV Hours

This course contains 28 hours.


​


​