ATTACHING AND MOVING LOADS IN ACCORDANCE WITH 'SAFE AT WORK-ACT'
1. Overall Education Programme
The purpose of this course is making participants aware of the hazards and need off good communication between them and the engine driver. Also, the participants will get familiar with hoisting materials and different methodes of attaching loads.

During the theoretical part of this course the following subjects will be discussed:

What does a safety function mean

Legal demands concerning 'Safe at Work-act'

LMRA and TRA

Workpermit, purpose, methode and safety measures.

Different kinds of hoisting tools and certification, as well as declining standards

Choosing hoisting tools to execute a certain assignment

Terms as safe work pressure, outside corner, division of force and safety rate

Use of armsignals, a porto phone or a combination of both

Final examination and feedback

The practical part exists of applying safety demands concerning the following:
Checking hoisting materials before starting your work

Discuss your armsignals with engine driver

Communication while using a porto phone

Choosing your hoisting materials before starting

Determine hazards of attaching certain loads

Execute different ways of hoisting using different hoisting materials

Execute an assignment as examination
2. Objectives
This course is ment for persons who have to attach and move loads as a part of their job. However, when you have to do this frequently in the Petrochemical sector, you are legaly bound to obtain a TCVT W4-08 certificate.
Participants will gain knowledge and the ability of operating the machine safely. They also learn to rigg responsibly according to the TCVT standards, while using correct tools. This course will let participants develop the ability of estimating risks. Finally they are taught how to communicate with employers or clients in a professional manor.
3. Maximum amount of participants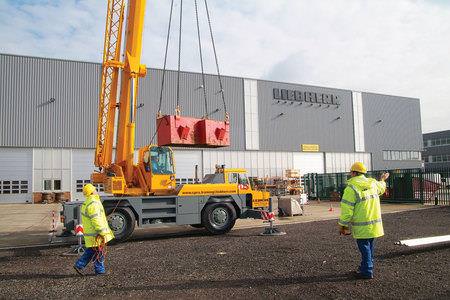 At the most we can provide this course to 4 participants per instructor per crane.
4. Resources
Mobile Crane

Hoisting equipment
5. Length of course
1 day of educating, including examination
**Customised training possible.
6. Languages

This course and the exam is available in the following languages:
Dutch

English

German

French.
7. CCV Hours(Also min. duration of course)

This course contains (at least) 7 hours.
​
​